Product Description
Product Description
1/2 Inch 10mm Pipe Fitting Rigid Ductile Iron Grooved Coupling for Fire Fighting
1/2 Inch 10mm Pipe Fitting Rigid Ductile Iron Grooved Coupling for Fire Fighting
                      1/2 Inch 10mm Pipe Fitting Rigid Ductile Iron Grooved Coupling for Fire Fighting
Ductile iron grooved pipe fittings and couplings (FM and UL approved) mainly including 2 kinds of grooved products:
(1) the pipe fittings function on connecting and sealing such as rigid coupling, flexible coupling, mechanical tee and grooved flange,
(2) the pipe fittings function on connecting and transition such as bend, tee, cross, reducer.

Specification
Name
Rigid coupling, Flexible coupling, 90° Elbow, 45° Elbow, 22.5° Elbow, 11.25° Elbow, Split Flange, Adaptor Flange, Cap
Tee, Reducing Tee(Grooved/Threaded), Mechnical Tee(Grooved/Threaded), U-bolted Mechnical Tee
Cross, Reducing Cross(Grooved/Threaded), Mechnical Cross(Grooved/Threaded)
Reducer(Grooved/Threaded), Grooved Eccentric Reducer
H.S. CODE
735710000
Technology
Casting
Connections
Grooved-Thread End, Grooved End
Pressure Rate
300PSI / 2.07MPa
Size
1" – 12"
Pipe O.D.
33.7MM – 323.9MM
Surface Finish
Epoxy Powder,Painting,Galvanization,Dacromet (in Red/Orange/Blue/White Color)
Design Standard
American Standard
ANSI/ASTM
European Standard
EN
British Standard
BS
Germany Standard
DIN
Japanese Standard
JIS
ISO Standard
ISO
Thread Standard
ASME B.1.20.1 / EN15716 / DIN2999 / ISO7-1 / ISO228 / IS554 / BS EN15716 / BS 21.173
Material Standard
Ductile Iron confirms to ASTM A-536 Gr65-45-12,EN1563,JIS G5502,QT450-12
Gasket Material
EPDM,NBR or Silicon Rubber
Bolts & Nuts
ISO 898-1class 8.8
Flanges Standard
PN series or Class series
Packages
Plywood Cases or Plywood Pallets or Boxes
Application
Fire Fighting System,Petrochemical & Gas Industry,Chemical,Machinery,Electric Power,Construction Water Works,Valve Industry,etc.
Advantages
High Quality + Ready Stock + Faster Delivery + Customized
Brand
LMP
Certificate
ISO9001,API,CE,UL/FM
Company Profile
We are a leading manufacturer of pipe fittings and valves establised in 1996
1.  We have over 20 years experience in exporting pipeline products.
2.  5 factories,complete 100+ projects every year.
3.  Your 1 more good choice for better customer service.
Certifications
FAQ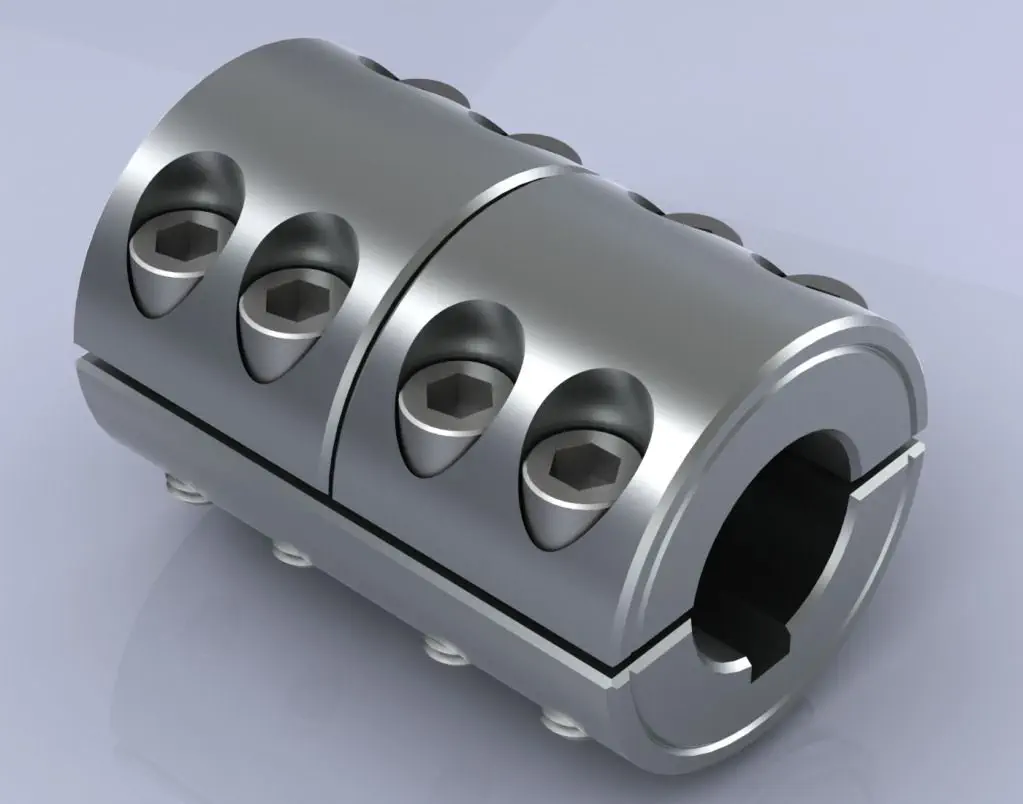 What Are the Maintenance Requirements for Rigid Couplings?
Rigid couplings are known for their simplicity and low maintenance requirements. Since they do not have moving parts or flexible elements, there are minimal wear and tear issues. However, some maintenance considerations for rigid couplings include:
1. Regular Inspection: It is essential to perform periodic inspections of the rigid couplings to check for any signs of wear, damage, or misalignment. Regular inspections can help identify potential issues early and prevent further problems.
2. Shaft Alignment: Proper shaft alignment is critical for rigid couplings. During installation or whenever maintenance work is performed on the connected machinery, the shaft alignment must be checked and adjusted if necessary. Misalignment can lead to premature coupling failure and cause additional stress on connected equipment.
3. Lubrication: Most rigid couplings do not require lubrication since they have no moving parts. However, some special designs or large-sized couplings may have set screws or other fasteners that require lubrication. It is essential to follow the manufacturer's guidelines regarding lubrication, if applicable.
4. Corrosion Protection: In corrosive environments, protecting the rigid couplings from corrosion is crucial. This can be achieved through the use of corrosion-resistant materials or coatings.
5. Periodic Re-tightening: If the rigid coupling uses set screws or other fasteners, periodic re-tightening may be necessary to maintain the integrity of the connection. This is particularly important in applications with high vibrations or heavy loads.
6. Temperature Considerations: Rigid couplings may experience thermal expansion or contraction, especially in high-temperature environments. It is essential to consider the thermal expansion characteristics of the coupling material and the connected shafts to ensure proper functioning under varying temperatures.
7. Professional Maintenance: In complex systems or critical applications, it is advisable to seek professional maintenance and alignment services. Expert technicians can ensure proper installation, alignment, and maintenance of rigid couplings, reducing the risk of unexpected failures.
Overall, rigid couplings are designed for reliability and longevity, and proper maintenance practices can further enhance their performance and lifespan. Regular inspections and alignment checks are vital for identifying and addressing potential issues before they escalate into costly problems.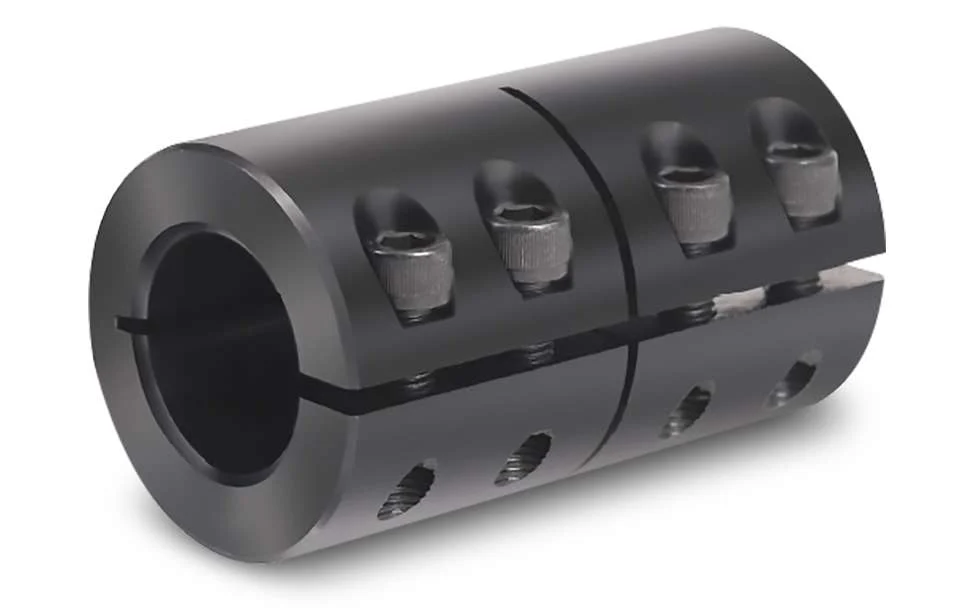 Impact of Rigid Coupling on the Overall Reliability of Connected Equipment
A rigid coupling plays a crucial role in enhancing the overall reliability of connected equipment in mechanical systems. Here's how it positively impacts reliability:
1. Power Transmission Efficiency: Rigid couplings provide a direct and efficient connection between the shafts of the connected equipment. With no flexible elements, there is minimal power loss, ensuring efficient power transmission from one shaft to another.
2. Elimination of Backlash: Rigid couplings have zero backlash, which is crucial in precision applications. Backlash, which is the play or clearance between connected components, can cause inaccuracies in motion control systems. With a rigid coupling, any movement is directly transferred, maintaining precise positioning.
3. Zero-Maintenance Option: Some rigid couplings are designed to be maintenance-free. They do not require lubrication or periodic adjustments, reducing downtime and ensuring continuous operation.
4. High Torque Transmission: Rigid couplings can handle high torque loads, making them suitable for heavy-duty applications. Their robust construction ensures reliable torque transmission without failure or slippage.
5. Resistant to Misalignment: While rigid couplings offer no flexibility, they are excellent at handling axial misalignment and angular misalignment, provided it falls within their design limits. This ability to tolerate some misalignment enhances reliability and reduces the risk of component damage.
6. Vibration Damping: The stiffness of rigid couplings aids in damping vibrations generated during operation. By minimizing vibrations, the coupling helps protect connected equipment from excessive stress and fatigue failure.
7. Increased System Stiffness: Rigid couplings contribute to the overall stiffness of the mechanical system. This stiffness improves the dynamic response of the system and reduces the likelihood of resonance, leading to more reliable operation.
8. Simple and Compact Design: Rigid couplings have a straightforward and compact design, which reduces the chances of component failure or wear. Their simplicity makes them easy to install and maintain, further enhancing system reliability.
9. Suitable for High-Speed Applications: Rigid couplings are well-suited for high-speed applications due to their ability to maintain accurate shaft alignment and transmit torque efficiently.
10. Compatibility with Various Industries: Rigid couplings find applications in a wide range of industries, including automotive, aerospace, manufacturing, and more. Their versatility and reliability make them a popular choice in demanding industrial environments.
Overall, the use of a properly selected and installed rigid coupling enhances the reliability of connected equipment by providing a robust and efficient connection between shafts. It ensures precise power transmission, reduced maintenance requirements, and improved system performance, leading to increased overall reliability and uptime of the mechanical system.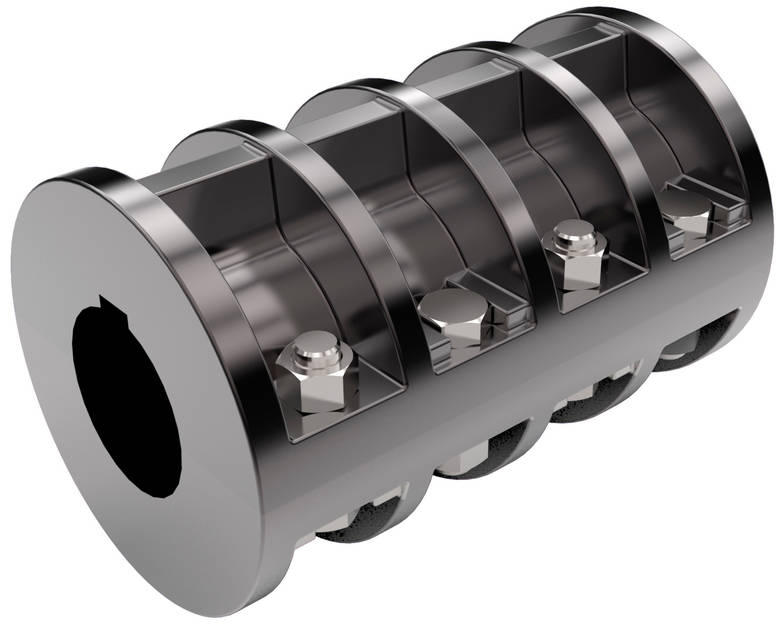 Materials Used in Manufacturing Rigid Couplings:
Rigid couplings are designed to provide a strong and durable connection between two shafts, and they are commonly made from a variety of materials to suit different applications. The choice of material depends on factors such as the application's environment, load capacity, and cost considerations. Some common materials used in manufacturing rigid couplings include:
1. Steel: Steel is one of the most widely used materials for rigid couplings. It offers excellent strength, durability, and resistance to wear. Steel couplings are suitable for a wide range of applications, including industrial machinery, automotive systems, and power transmission.
2. Stainless Steel: Stainless steel couplings are used in applications where corrosion resistance is crucial. They are well-suited for environments with high humidity, moisture, or exposure to chemicals. Stainless steel couplings are commonly used in food processing, pharmaceuticals, marine, and outdoor applications.
3. Aluminum: Aluminum couplings are known for their lightweight and corrosion-resistant properties. They are often used in applications where weight reduction is essential, such as aerospace and automotive industries.
4. Brass: Brass couplings offer good corrosion resistance and are commonly used in plumbing and water-related applications.
5. Cast Iron: Cast iron couplings provide high strength and durability, making them suitable for heavy-duty industrial applications and machinery.
6. Bronze: Bronze couplings are known for their excellent wear resistance and are often used in applications involving heavy loads and low speeds.
7. Plastics: Some rigid couplings are made from various plastics, such as nylon or Delrin. Plastic couplings are lightweight, non-conductive, and suitable for applications where electrical insulation is required.
It's essential to consider the specific requirements of the application, including factors like load capacity, operating environment, and cost, when choosing the appropriate material for a rigid coupling. The right material selection ensures that the coupling can withstand the forces and conditions it will encounter, resulting in a reliable and long-lasting connection between the shafts.



editor by CX 2023-09-12