Product Description
Product Description
KTR BOWEX FLE-PA 48 D-241 Flange Coupling For Excavator Hydraulic Pump
 
| | |
| --- | --- |
| Port | HangZhou |
| Standard or Nonstandard | Standard |
| Balance | Balanced |
| Application | Excavator/Wheel loader/Truck |
| Tardmark | YNF |
| Part Name | Excavator coupling assembly |
| Stock Condition | In Stock |
Our advantages: 
                         
1). OEMs Supplier, 
 2) Professional manufacturer, 
3). Professional and high efficiency equipments   
4). Quality first, Great variety  
5). Good service
More Excavator coupling for your review
1. 8A:  SK04V2 PC20
2.16A: PC60 PC40 EX50
3. 16AS: PC40-5 EX55
4. 30A: SK100-5 CZPT MS70B E307
5. 30AS: EX60 HD250 S60-6 SK07
6. 30H: MS110 DH55
7.  40H: EX200-2
8. 50A: E312 E120B HD450 E3118B
9. 50AS: MS120 MS110 MS140 HD512 SH120 LS120 HD450 E120 SH100
10. 50AC 14T : E200B SH200
11. 50AM 16T: MS180-8 E320 E240
12. 50H: EX200-1 EX200-3 EX200-5 HD700 PC200-1 HD800 PC200-3 PC200-5 HD900 E320
SK200 SK220 R210 LS160 LS70 E320B SK200-6 SK200-3 E320C DH220-5 R220-5 R225-7
13. 110H: EX220 EX300-1 EX300-2 EX300-3 SK230 SK220-3 ZAX330 EX350-5 EX330 E325 LS430 EX300
14.140H: HD280 HD1430 PC300-1HD1250 R300 HD300 E330 SK912 SK820 HD1880 DH320-2
15. 160H: LS380 R290 R300-5 SH300A2
16. 28AS: EX120
17. 28A: ZAX200
18. 45H: ZAX200
19. 25H: R60-7 ZAX55
20. 50AM 20T: SH280
We also have stock in these parts:
 1. Crank shaft, various sun gear, various planet gears, drive shaft, various travel coupling, transmission gear, speed cut gear, various travel gear discs, travel bearing cover, minor axis, varous drive shaft, vertical shaft
2. Excavator bearing
Material options for H series Couplings H series coupling we produced is made of Hytrel. It has elasticity like that of rubber. It is excellent in absorbing vibrations and shocks. It also excels in resistance to heat, low temperature and oil. Input and output can be connected and disconnected easily merely by moving axially. By using a unique claming mechanism, mounting in a spline shaft is possible. Hub and spline shafts are completely fixed by using a clamping hub of the mechanism. No fretting wear is caused.
Products Show:
Recommended Products
Company Profile
Inventory
Exhibitions
Customer Reviews
Packaging & Shipping
Workshop & FAQ
1.What parts you have ?
-We are specialized in the excavator spare parts, such as electrical parts,rubber series,pressure sensor series,valve series,mini parts,wearing parts and so on. If you have a lot of products to customize, we can also produce them.
2.If i don't have part number, can you check for me?
– Yes, If possible, you can send us pictures of old products, nameplate or the size for reference.
3. How do you ship the goods and how long does it take?
– We usually ship by DHL,UPS,FEDEX. It usually takes 5-15days to arrive.           By air,by sea are also acceptable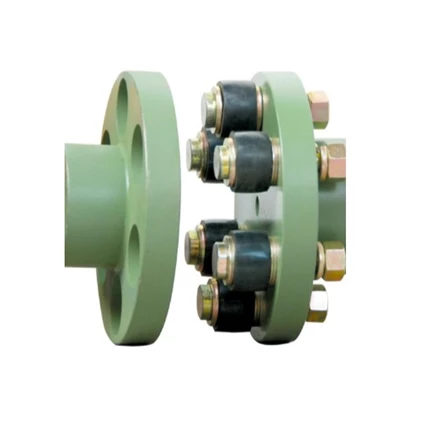 What Role Does a Flange Coupling Play in Reducing Downtime and Maintenance Costs?
A flange coupling plays a crucial role in reducing downtime and maintenance costs in mechanical systems. Here are the key ways it contributes to these benefits:
Misalignment Compensation: Flange couplings can accommodate a certain degree of misalignment between the shafts, both angular and parallel. By allowing for misalignment, the coupling reduces the chances of mechanical failures caused by rigid connections. This flexibility minimizes stress and wear on the connected equipment and helps prevent unexpected downtime due to alignment issues.
Vibration Damping: Flange couplings with flexible elements, such as elastomeric inserts, help dampen vibrations in the system. By absorbing and dissipating vibration forces, the coupling protects the equipment from excessive vibrations that could lead to component failure and unplanned downtime.
Shock Load Absorption: In some applications, sudden shock loads or torque spikes can occur. Flange couplings with flexible elements have a certain shock-absorbing capacity, which prevents damage to the machinery and reduces the likelihood of unplanned downtime caused by sudden impact loads.
Easy Maintenance and Inspection: Flange couplings are designed for easy installation, maintenance, and inspection. They usually consist of fewer parts and are accessible for visual inspections and lubrication. This ease of maintenance allows for quick identification of any wear or misalignment issues, enabling timely corrective actions to avoid costly breakdowns.
Long Service Life: Flange couplings are typically constructed from durable materials that can withstand demanding operating conditions. When properly selected and maintained, they offer a long service life with minimal wear and replacement requirements. This longevity contributes to reduced maintenance costs and fewer replacement expenses over the equipment's lifetime.
Cost-Effective Design: Flange couplings are available in a variety of materials and configurations, offering cost-effective solutions for power transmission needs. Their relatively simple design and easy installation further contribute to cost savings during the initial setup and routine maintenance.
Overall, a well-chosen and properly maintained flange coupling enhances the reliability and efficiency of mechanical systems, reducing downtime, and lowering maintenance costs in industrial applications.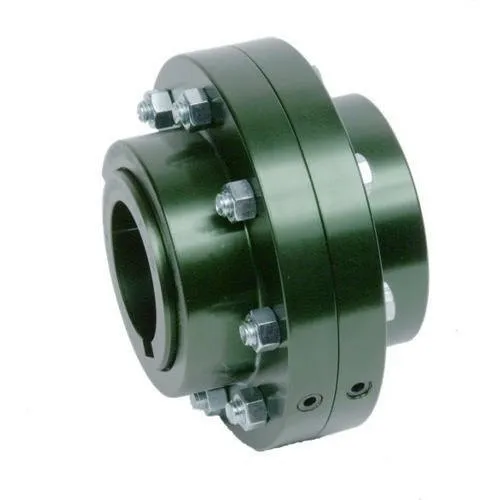 Flange Couplings in Precision Motion Control Systems
Yes, flange couplings can be used in precision motion control systems, provided they are designed and selected appropriately for the specific application. Precision motion control systems often require high accuracy, repeatability, and minimal backlash. Flange couplings can meet these requirements when certain factors are considered:
1. Backlash: Precision motion control systems require minimal or zero backlash to ensure accurate positioning. Flexible flange couplings with no metal-to-metal contact, such as elastomeric or beam couplings, are preferred for these applications.
2. Rigidity: Flange couplings should have sufficient torsional rigidity to maintain the accuracy of the motion system. Rigid flange couplings made from materials like aluminum or steel can provide higher torsional stiffness.
3. Misalignment Compensation: In precision systems, alignment errors must be minimized. Flexible flange couplings can compensate for minor misalignments between shafts while maintaining precise motion transmission.
4. Low Inertia: Flange couplings with low inertia are desirable as they reduce the overall inertia of the system, enabling faster acceleration and deceleration during motion.
5. Material Selection: The choice of material is critical in precision motion control applications. Materials with high strength-to-weight ratios and minimal deformation under load are preferred.
6. Environmental Factors: Consider the environmental conditions in which the flange coupling will operate. For instance, in vacuum environments or cleanrooms, non-lubricated or special coatings may be necessary.
When selecting a flange coupling for precision motion control systems, it's essential to consider the specific requirements of the application, including speed, torque, misalignment, and environmental factors. Regular maintenance and periodic checks for wear and misalignment are crucial to ensure the continued performance and accuracy of the motion control system.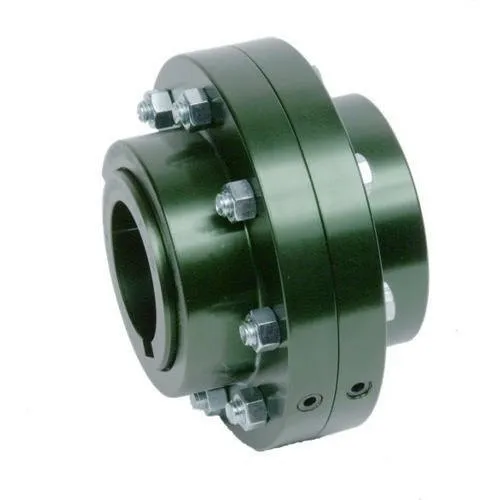 What is a flange coupling and how does it work?
A flange coupling is a type of rigid coupling used to connect two shafts together in a mechanical system. It consists of two flanges, one on each shaft, which are bolted together to form a solid and robust connection. Flange couplings are widely used in applications where precise alignment, high torque transmission, and zero backlash are critical.
The key components of a flange coupling include:
Flanges: The flanges are circular discs with holes around the perimeter for bolting them to the respective shaft ends. The flanges are made from materials such as steel, cast iron, or aluminum, depending on the application requirements.
Fasteners: High-strength bolts or studs with nuts are used to fasten the flanges together securely. The number and size of the bolts depend on the size and torque capacity of the coupling.
Gaskets: In some cases, gaskets or spacers are used between the flanges to provide insulation, prevent corrosion, or compensate for any slight misalignments between the shafts.
How a flange coupling works:
The two shafts that need to be connected are brought together with their respective flanges facing each other.
The flanges are aligned precisely to ensure that both shafts are in perfect axial alignment. Proper alignment is essential to prevent excessive loads on the bearings and to ensure efficient torque transmission.
Once the flanges are aligned, high-strength bolts or studs are inserted through the holes in the flanges, and nuts are fastened tightly to hold the flanges together securely.
The tight connection between the flanges creates a rigid joint between the shafts, allowing torque to be transmitted from one shaft to the other with minimal losses.
Flange couplings are designed to have zero backlash, meaning there is no play or free movement between the shafts when the direction of rotation changes. This feature ensures precise and immediate power transmission between the connected shafts.
Flange couplings are commonly used in various industrial applications, including heavy machinery, pumps, compressors, and marine propulsion systems. They are preferred when a reliable, high-torque transmission with precise alignment is required. However, they do not offer flexibility to accommodate misalignment, which is a limitation compared to flexible couplings. Therefore, proper alignment during installation is critical to avoid premature wear and failure of the coupling and connected equipment.



editor by CX 2023-08-17