Product Description
Hydraulic hose flange adapter carbon steel forging flange coupling
Our Catalog on the hydraulic connections
I. Fittings and Adapters
1.Swaged Metric Fittings
Mertic Flat Seal Fittings 
Metric 24°Cone O-RING Seal L..T Fittings
Metric Multiseal Fittings
Metric 24°Cone O-RING Seal H.T.Fittings
Metric 60°Cone Seal Fittings 
Metric Standpipe Straight Fittings
Metric 74°Cone Seal Fittings
JIS Metric 60°Cone Seal Fitting
2. Swaged British Fittings
BSP O-RING Seal Fittings 
BSP 60°Cone Seal Fittings
BSP Flat Seal Fittings
BSPT Fittings
BSP Multiseal Fittings
JIS BSP 60°Cone Seal Fittings
3. Swaged American Fittings
SAE O-RING Seal Fittings 
NPT Fittings
ORFS Flat Seal Fittings
SAE Flange L.T. Fittiings
NPSM 60°Cone Seal Fittings
SAE Flange H.T.Fittings
JIC 74°Cone Seal Fittings
4. Staplelok Fittings
Banjo 
interlock Hose Fittings
Double connection
5. Ferrule
FERRULE for SAE100R1AT/ EN 853 1SN HOSE
FERRULE for SAE100R2A/EN 853 2SN HOSE
FERRULE for SAE100R1A EN 853 1ST HOSE
FERRULE for 4SP,4SH/10-16,R12-06-16 HOSE
FERRULE for SAE100R2AT/DIN20571 2SN HOSE
FERRULE for 4SH,R12/32 HOSE
FERRULE for SAE100R1AT-R2AT,EN853 1SN-2SN and EN 857 2SC 
6. Metric Adapters
Metric Thread O-RING Face Seal Adapters
JIS Metric Thread 60°Cone Adapters
Metric Thread Bite Type Tube Adapters
Metric Thread 74°Cone Flared Tube Adapters
7. British Adapters
BSP Thread 60°Cone Adapters
BSPT Thread Adapters
JIS BSP Thread 60°Cone Adapters
8. American Adapters
NPT Thread Adapters
ORFS Adapters JIC 74°Cone Flared Tube Adapters
II.Couplers and clamps: 

European / American / Austraulia type camlock, pin-plug and clamps for large size hoses with NPT, BSP thread.

III.Stainless Steel (316SS / 304SS) & Brass & aluminum fittings: 

NPT,JIC,BSP etc threaded male and female fittings & adaptors for low & high pressure
Thread: metric. We can do metric, bspt, npt, jic, sae thread on customer's request.
Material: carbon steel, ss304, ss316, brass
Color: White silver, Blue silver, Yellow zinc.
Surface treatment: Cr+3, Cr+6 zinc plating, zn-ni plating.
Technic: forged
Product Show
Our company
ZheJiang CHINAMFG Rubber Product Group Co., Ltd, founded in 1999, is a manufacturer dedicated to the design, production, and distribution of all types of flexible hoses, fittings, adapters and quick couplings with excellent quality standard.
After 20 years of development, today the plants of CHINAMFG Group has expended to occupy an area of 100,000 square meters, owns over 300 well-trained staffs and over 10 million CHINAMFG production capacity per year, in order to meet high demand of both local and oversea market. Until now, CHINAMFG Group has been awarded as 'The CHINAMFG trademark enterprises" and "The best top 10 enterprises" in China.
Our product catalog
1. SAE 100 R1AT, R2AT, R5, R6, R7, R8, R12, R13, R14,R15
2. DIN EN 853 1SN, 2SN,2ST;  EN 856 4SP, 4SH
3. SAE100 R14 Teflon hose
4. Jack hose, washing hose, sewer hose
5. SAE100 R4 Air/Water/Oil Suction & Discharge Rubber Hose  
6. LPG(gas) HOSE, twin welding hose,Steam hose
7. Sandblast Hose,Concrete pump hose
8. Rotary Drilling and Vibrator Hoses, Cement Hoses, and Mud Delivery Hoses
9. Fiber glass fire sleeve(Pyrojacket), Plastic Spiral Guard for Hydraulic Hose
10. Hydraulic fittings and adaptor
11. Crimping machine,Skiving machine, cutting machine
FAQ
Q1. Are your company a manufacturer or trading company?
A: Our company is a manufacturing company.
Q2. Can your products be customized?
A: Sure, we can provide the customized design and customized production for metal connectors, hose assembly and steel pipe assembly as your requirements.
Q3. Can you produce products with my own brand?
A: Yes,we can offer OEM services.
Q4. What is your terms of payment?
A: T/T 30% as deposit, and 70% before delivery. We'll show you the photos of the products and packages before you pay the balance.
Q5.What is your port of loading?
A: Xihu (West Lake) Dis.g port 
Q6. How about your delivery time?
A: It usually takes 15 to 30 days,which generally depends on the quantity of your order and our storage.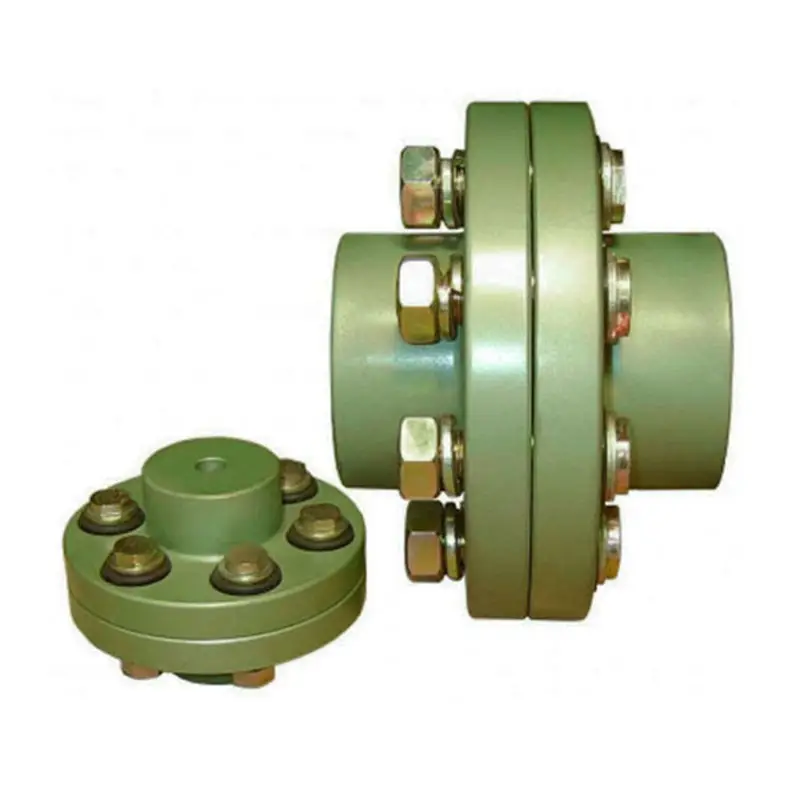 Torque and Speed Ratings of Flange Couplings
Flange couplings are available in various sizes and designs to accommodate a wide range of torque and rotational speed requirements. The torque and speed ratings of flange couplings depend on several factors, including their size, material, and design.
Torque Rating:
The torque rating of a flange coupling indicates the maximum amount of torque it can transmit without experiencing failure or damage. It is typically specified in Nm (Newton-meters) or lb-ft (pound-feet). The torque rating varies for different sizes and types of flange couplings. Larger flange couplings generally have higher torque ratings compared to smaller ones.
Speed Rating:
The speed rating of a flange coupling represents the maximum rotational speed at which it can operate reliably without excessive vibration or wear. It is typically expressed in RPM (revolutions per minute). The speed rating is influenced by factors such as the design, material, and balancing of the flange coupling. Higher-speed applications require flange couplings that can handle the increased centrifugal forces and dynamic loads associated with higher RPMs.
Size and Type:
The torque and speed ratings vary for different sizes and types of flange couplings. For example:
Smaller flange couplings, such as those used in light-duty applications, may have torque ratings ranging from a few Nm to several hundred Nm, and speed ratings up to a few thousand RPM.
Larger flange couplings, used in heavy-duty industrial applications, can have torque ratings exceeding several thousand Nm and speed ratings that may reach tens of thousands of RPM.
Flexible flange couplings may have slightly lower torque ratings compared to rigid flange couplings but offer greater misalignment compensation.
Manufacturer Specifications:
It is essential to refer to the manufacturer's specifications and technical data to determine the specific torque and speed ratings for each size and type of flange coupling. Manufacturers typically provide detailed performance data to help users select the appropriate flange coupling for their specific application.
Application Considerations:
When selecting a flange coupling, it is crucial to consider the torque and speed requirements of the application. The operating conditions, such as load fluctuations and thermal effects, should also be taken into account to ensure the flange coupling's reliable performance and longevity.
Conclusion:
Flange couplings come in various sizes and designs, each with its own torque and speed ratings. Properly selecting a flange coupling that meets the specific torque and speed requirements of the application is essential to ensure efficient and trouble-free power transmission in mechanical systems.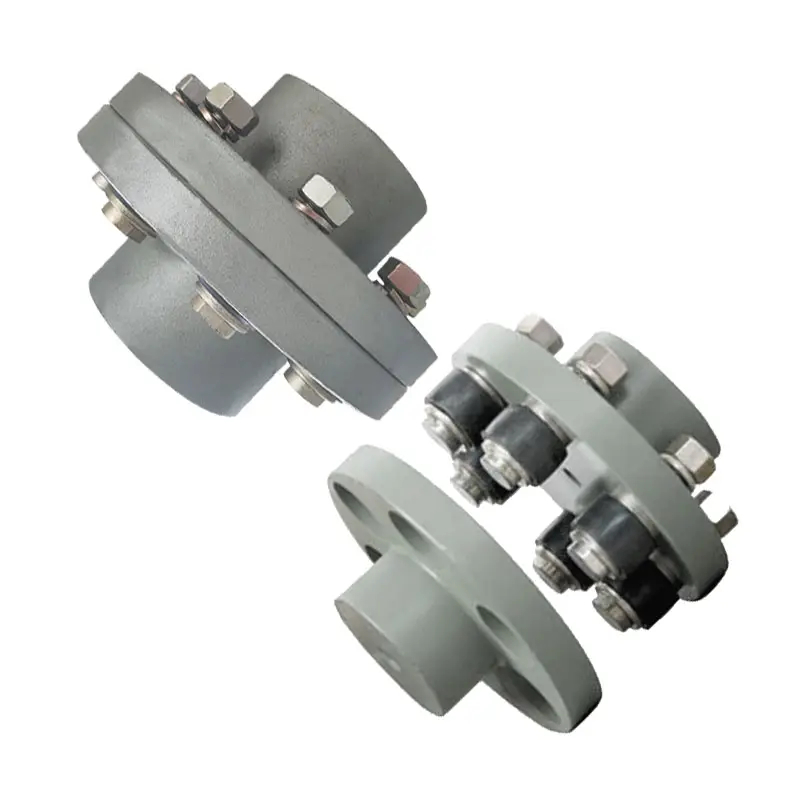 Can Flange Couplings Be Used in Applications with High Shock and Impact Loads?
Yes, flange couplings are designed to handle high shock and impact loads in various industrial applications. Their robust construction and rigid design make them suitable for use in systems where sudden shocks and impacts are common.
The ability of flange couplings to withstand shock and impact loads is influenced by several factors:
1. Material Selection: Flange couplings are often made from high-strength materials, such as alloy steels or stainless steels, which provide excellent toughness and resistance to impact loads.
2. Robust Design: The design of flange couplings typically includes features like sturdy flanges and high-strength bolts that enhance their ability to withstand shocks and impacts.
3. Tolerance for Misalignment: Some flange couplings, such as flexible flange couplings, have the ability to accommodate slight misalignments between shafts. This flexibility helps absorb shocks and vibrations, reducing the impact on connected equipment.
4. Proper Installation: Proper installation and alignment are crucial for ensuring that flange couplings can handle shock and impact loads effectively. Precision alignment and the correct torque on the bolts prevent premature failures due to misalignment.
5. Application Considerations: When selecting a flange coupling for an application with high shock and impact loads, factors such as torque requirements, rotational speed, and the magnitude of the shock should be taken into account to choose the most suitable coupling type and size.
Overall, flange couplings are a reliable choice for systems where shock and impact loads are present. However, it is essential to consult with coupling manufacturers or engineering experts to ensure the proper selection and installation of the coupling for specific high-impact applications.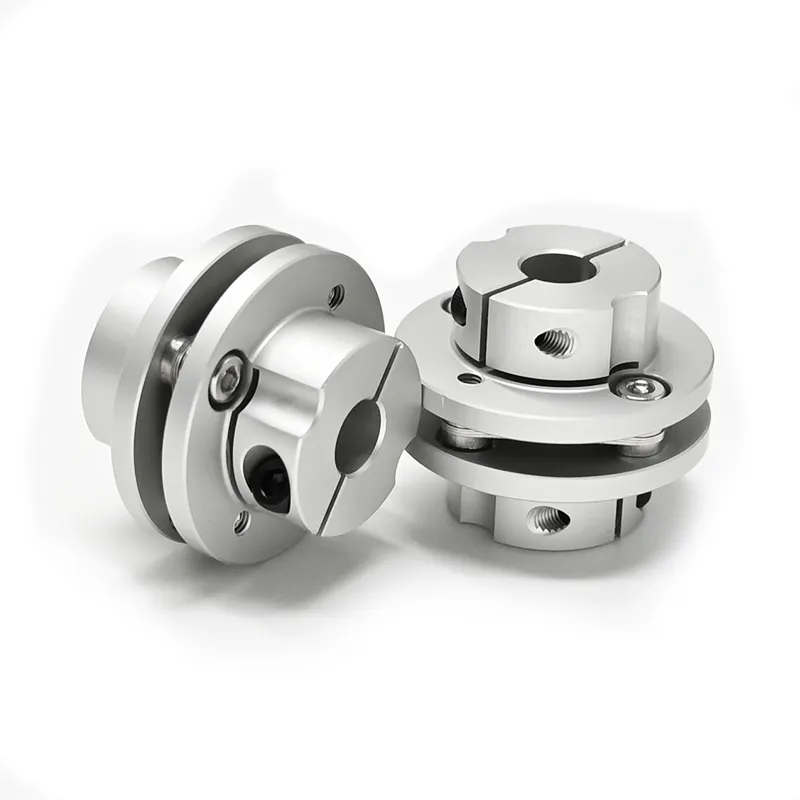 How Do Flange Couplings Compare to Other Types of Couplings in Terms of Performance?
Flange couplings offer several advantages and disadvantages compared to other types of couplings, and their performance depends on the specific requirements of the application. Here's a comparison of flange couplings with other common coupling types:
1. Flexible Couplings:– Misalignment Handling: Flexible couplings, such as elastomeric or jaw couplings, excel in handling shaft misalignment, both angular and axial. Flange couplings have limited misalignment accommodation compared to flexible couplings.- Vibration Damping: Flexible couplings can absorb and dampen vibrations, reducing the impact on connected equipment. Flange couplings, being rigid, provide less vibration dampening.- Load Capacity: Flange couplings can handle higher torque and loads due to their rigid design, making them suitable for heavy-duty applications. Flexible couplings have a lower torque and load capacity but offer other benefits.2. Gear Couplings:– Misalignment Handling: Gear couplings are capable of handling higher levels of misalignment, especially angular misalignment.- Load Capacity: Gear couplings are robust and can transmit high torque and handle heavy loads similar to flange couplings.- Complexity: Gear couplings have a more intricate design compared to flange couplings, which may result in higher manufacturing costs.3. Disc Couplings:– Misalignment Handling: Disc couplings can accommodate moderate misalignment, but they are not as effective as flexible couplings in this aspect.- Torsional Stiffness: Disc couplings offer high torsional stiffness, making them suitable for precise motion control applications.- Temperature Resistance: Disc couplings can withstand higher operating temperatures compared to some other coupling types.4. Fluid Couplings:– Slip Capability: Fluid couplings provide slip between input and output, allowing for smoother starts and reduced shock loads during acceleration.- Efficiency: Fluid couplings may introduce power losses due to fluid shear, resulting in lower efficiency compared to some other coupling types.In summary, flange couplings are ideal for applications requiring high torque transmission and rigid shaft connections. They are commonly used in industrial machinery, pumps, and compressors. However, for applications with misalignment issues, vibration concerns, or the need for torsional flexibility, other coupling types like flexible couplings or gear couplings might be more suitable. The choice of coupling depends on factors such as the specific application, misalignment, load requirements, and the desired level of vibration isolation or damping needed in the system.



editor by CX 2023-10-06