Product Description
Rigid Conduit Couplings
General     
  The rigid conduit coupling is used to connect the electrical steel conduits together, thus extending the length of the conduit pipe. It is manufactured from seamless steel pipes according to ANSI C80.1 and UL6 standards with UL certificate number of E308290. Its trade size can be from 1/2″ to 6″. We can make the rigid conduit coupling zinc plate on both outer side and inner side. The internal surface can also be electro-galvanized completely .
Detailed Product Description
Standard: UL6 & ANSI C80.1
Certificates: UL Listed, certificate No.E308290 (177709-001)
Trade Size: From 1/2″ to 6″
Usage:Used in Rigid Metal Conduit
Surface: Zinc plate on both out side and inner side, or hot dipped galvanzied and zinc plate on out side and zinc plate on inner side
Material: Seamless Steel Pipe
Package:  Carton
Delivery Time: 20 to 30 days after we receive your advance payment or copy of L/C
Payment Term: L/C at sight or T/T
Dimension and Weight Chart

Trade Size
Weight Per 100 pcs
Outside Diameter "B" 
Minimum Acceptable Legnth"A"
Standard Carton Qty
Weight Per Carton
KG
LBS
mm
in.
mm
in.
PCS
KG
LBS
1/2″ 
6.35
14
25.7
1.01
41.3
1.626
400
25.4
56
3/4″ 
9.07
20
31.8
1.25
41.7
1.642
300
27.2
60
1″ 
14.06
31
38.7
1.53
50
1.969
180
25.3
56
1-1/4″ 
17.69
39
47.5
1.87
51.6
2.031
100
17.7
39
1-1/2″ 
25.4
56
54.7
2.16
52.4
2.063
75
19.1
42
2″ 
33.11
73
67.3
2.65
54
2.126
60
19.9
44
2-1/2″ 
83.92
185
82.6
3.25
81
3.189
12
10.1
22
3″ 
102.51
226
98.3
3.87
84.1
3.311
8
8.2
18
3-1/2″ 
162.39
358
114.3
4.5
86.5
3.406
4
6.5
14
4″ 
181.44
400
123.8
4.88
89.3
3.516
4
7.3
16
5″ 
225.44
497
152.4
6
100.4
3.953
2
4.5
10
6″ 
370.1
816
182.9
7.2
108
4.252
3
11.1
24
Company Information
    HangZhou East Steel Pipe Co., Ltd is nearly about 60 years old and located in the worldly kite capital -HangZhou city in ZheJiang Province, which is about 156 kilometers far from HangZhou port. It was originated from the socialism cooperative in 1954, then developed into the state-owned enterprise, which was named as HangZhou Steel Pipe company in 1976. In 2001, HangZhou Steel Pipe company was restructured to be the private enterprise and renamed as HangZhou East Steel Pipe Co.,Ltd.
    HangZhou East Steel Pipe Co.,Ltd, which occupies about 254,000 square meters, has a total capital of USD80 million and annual comprehensive output of 200,000 tons. Now it owns 800 employees, including 300 senior/intermediate engineers and professional technicians.
    Now our electrical products include Rigid Steel Conduit ,Rigid Aluminum Conduit, IMC Conduit, EMT Conduit and Conduit fittings such as elbow, nipple, coupling, etc., and our products have been exported to more than 51 countries in the world, including North America, Middle America, South America, Asia, Middle East, Europe, etc. We are always appreciated by our clients for good quality and excellent services.
Fast Facts About HangZhou East Steel Pipe Co.,Ltd.
          -The largest rigid steel conduit producer in China
        -The only producer of Hot Dip Galvanized EMT conduit in the world.
        -The professional manufacturer of conduit accessories in China
UL6 Products
FAQ
Q1. Are you a manufacturer or trading company?
A: We are a manufacturer specializing in steel pipe related products for more than 20 years in domestic market, so we can provide products stably for a long time with lower price.
Q2.Can you provide free sample for our test?
A: Yes, we welcome sample order to test and check quality. Mixed samples are acceptable. You only need to bear the freight and the sample will be sent out within 7 days.
Q3. Do you have any MOQ limit for production?
A: The order quantity minimum requirement is a 20 GP container. As for our steel pipe product, we usually use container transport for lower freight. 
Q4. How to proceed an order for product?
A: Firstly let us know your requirements or application.
Secondly we quote according to your requirements or our suggestions.
Thirdly buyer confirms the samples(if you need) and places deposit for formal order.
Finally we arrange the production.
Q5. Is it OK to print my logo on the product or the carton packing?
A: Yes. Please inform us formally before our production and confirm the design firstly based on our sample.
Q6. How to deal with the faulty?
A: We sincerely welcome you to investigate our factory and inspect the goods. Our products are produced in strict quality control system and the defective rate is low.
Also, if you have any questions or dissatisfaction, please feel free to contact us. We will serve you as soon as possible and give you a satisfactory solution.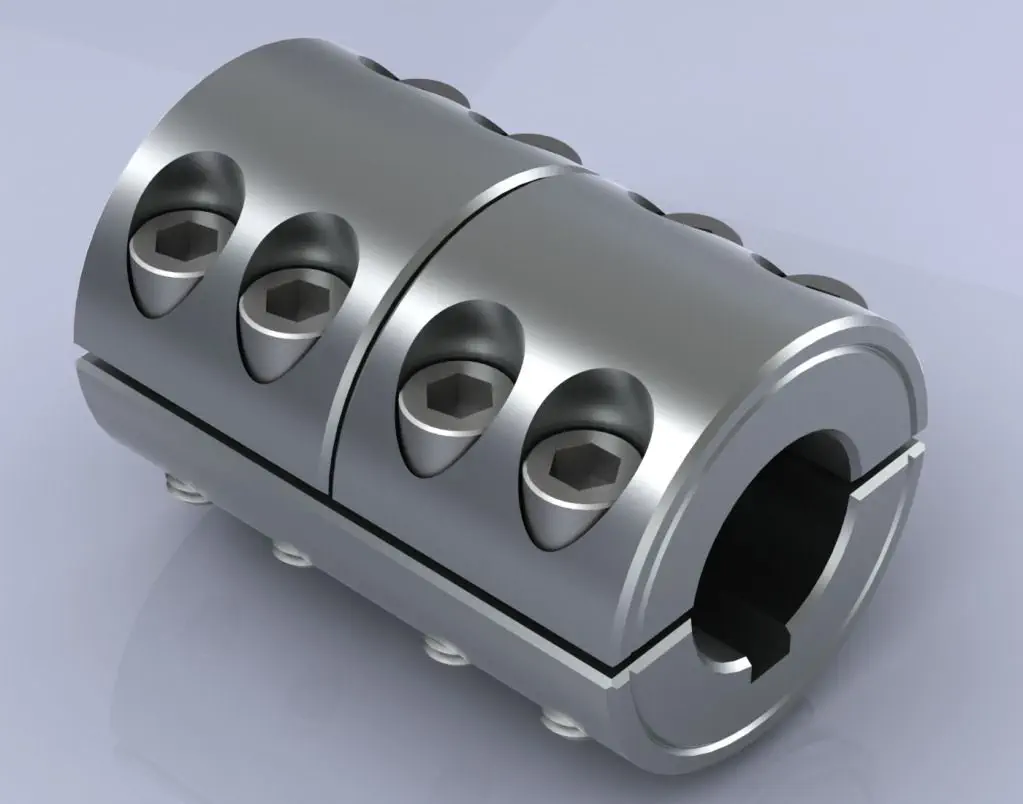 What Are the Maintenance Requirements for Rigid Couplings?
Rigid couplings are known for their simplicity and low maintenance requirements. Since they do not have moving parts or flexible elements, there are minimal wear and tear issues. However, some maintenance considerations for rigid couplings include:
1. Regular Inspection: It is essential to perform periodic inspections of the rigid couplings to check for any signs of wear, damage, or misalignment. Regular inspections can help identify potential issues early and prevent further problems.
2. Shaft Alignment: Proper shaft alignment is critical for rigid couplings. During installation or whenever maintenance work is performed on the connected machinery, the shaft alignment must be checked and adjusted if necessary. Misalignment can lead to premature coupling failure and cause additional stress on connected equipment.
3. Lubrication: Most rigid couplings do not require lubrication since they have no moving parts. However, some special designs or large-sized couplings may have set screws or other fasteners that require lubrication. It is essential to follow the manufacturer's guidelines regarding lubrication, if applicable.
4. Corrosion Protection: In corrosive environments, protecting the rigid couplings from corrosion is crucial. This can be achieved through the use of corrosion-resistant materials or coatings.
5. Periodic Re-tightening: If the rigid coupling uses set screws or other fasteners, periodic re-tightening may be necessary to maintain the integrity of the connection. This is particularly important in applications with high vibrations or heavy loads.
6. Temperature Considerations: Rigid couplings may experience thermal expansion or contraction, especially in high-temperature environments. It is essential to consider the thermal expansion characteristics of the coupling material and the connected shafts to ensure proper functioning under varying temperatures.
7. Professional Maintenance: In complex systems or critical applications, it is advisable to seek professional maintenance and alignment services. Expert technicians can ensure proper installation, alignment, and maintenance of rigid couplings, reducing the risk of unexpected failures.
Overall, rigid couplings are designed for reliability and longevity, and proper maintenance practices can further enhance their performance and lifespan. Regular inspections and alignment checks are vital for identifying and addressing potential issues before they escalate into costly problems.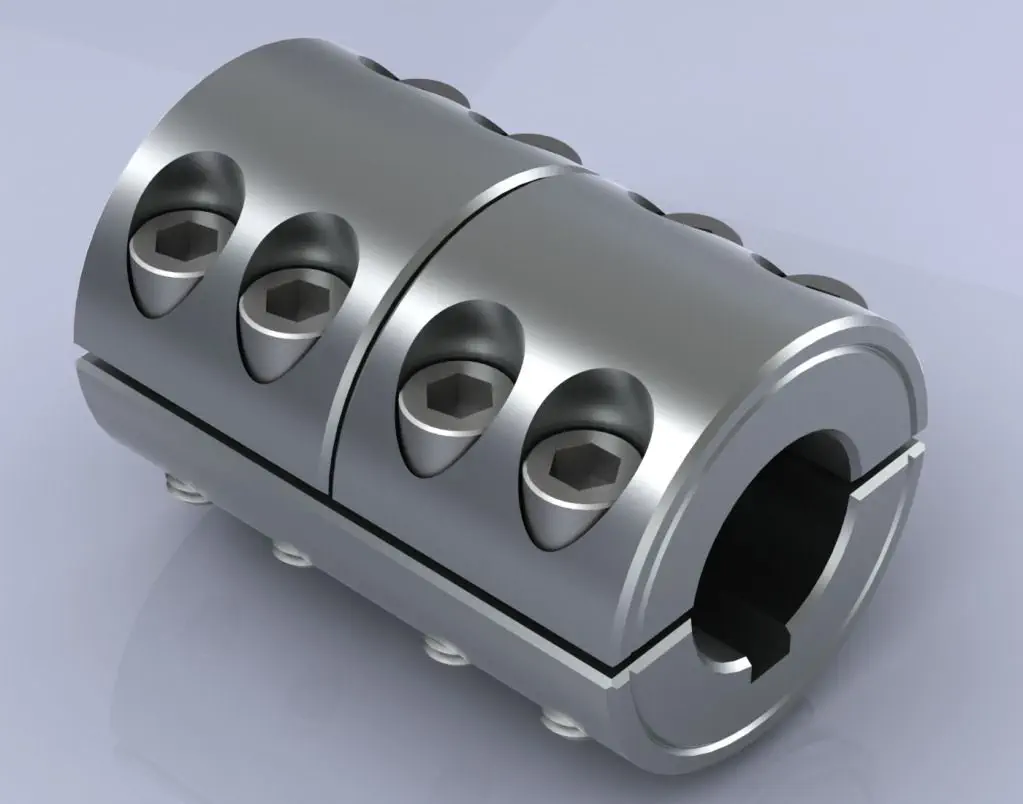 How Does a Rigid Coupling Handle Angular, Parallel, and Axial Misalignment?
Rigid couplings are designed to provide a fixed and rigid connection between two shafts. As such, they do not have any built-in flexibility to accommodate misalignment. Therefore, when using a rigid coupling, it is essential to ensure proper shaft alignment to avoid excessive forces and premature wear on connected equipment.
Angular Misalignment: Angular misalignment occurs when the axes of the two shafts are not collinear and form an angle with each other. Rigid couplings cannot compensate for angular misalignment, and any angular misalignment should be minimized during installation. Precision alignment techniques, such as laser alignment tools, are often used to achieve accurate angular alignment.
Parallel Misalignment: Parallel misalignment, also known as offset misalignment, happens when the axes of the two shafts are parallel but have a lateral displacement from each other. Rigid couplings cannot accommodate parallel misalignment. Therefore, precise alignment is crucial to prevent binding and excessive forces on the shafts and bearings.
Axial Misalignment: Axial misalignment occurs when the two shafts have an axial (longitudinal) displacement from each other. Rigid couplings cannot address axial misalignment. To prevent thrust loads and additional stresses on bearings, it is essential to align the shafts axially during installation.
In summary, rigid couplings are unforgiving to misalignment and require precise alignment during installation. Any misalignment in a rigid coupling can lead to increased wear, premature failure of components, and reduced overall system efficiency. Therefore, it is crucial to use appropriate alignment techniques and tools to ensure optimal performance and longevity of the connected equipment.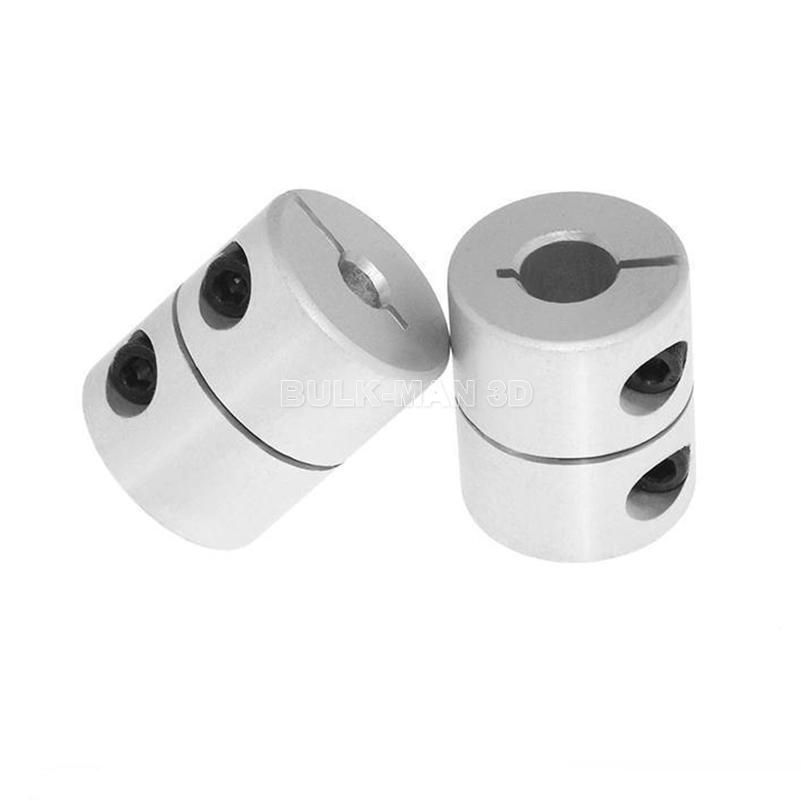 Limitations and Disadvantages of Using Rigid Couplings:
Rigid couplings offer several advantages in providing a strong and direct connection between shafts, but they also have certain limitations and disadvantages that should be considered in certain applications:
No Misalignment Compensation: Rigid couplings are designed to provide a fixed connection with no allowance for misalignment between shafts. As a result, any misalignment, even if slight, can lead to increased stress on connected components and cause premature wear or failure.
Transmit Shock and Vibration: Rigid couplings do not have any damping or vibration-absorbing properties, which means they can transmit shock and vibration directly from one shaft to another. In high-speed or heavy-duty applications, this can lead to increased wear on bearings and other components.
No Torque Compensation: Unlike flexible couplings, rigid couplings cannot compensate for torque fluctuations or angular displacement between shafts. This lack of flexibility may not be suitable for systems with varying loads or torque requirements.
Higher Stress Concentration: Rigid couplings can create higher stress concentration at the points of connection due to their inflexibility. This can be a concern in applications with high torque or when using materials with lower fatigue strength.
More Challenging Installation: Rigid couplings require precise alignment during installation, which can be more challenging and time-consuming compared to flexible couplings that can tolerate some misalignment.
Increased Wear: The absence of misalignment compensation and vibration absorption can lead to increased wear on connected components, such as bearings, shafts, and seals.
Not Suitable for High Misalignment: While some rigid couplings have limited ability to accommodate minor misalignment, they are not suitable for applications with significant misalignment, which could lead to premature failure.
Despite these limitations, rigid couplings are still widely used in many applications where precise alignment and a strong, permanent connection are required. However, in systems with significant misalignment, vibration, or shock loads, flexible couplings may be a more suitable choice to protect the connected components and improve overall system performance and longevity.



editor by CX 2023-10-07