Product Description
Product Description
Ductile iron pipe has the essence of iron and the properties of steel, so it is called this. The graphite in the ductile iron pipe is in the form of spheroids, and the size of the general graphite is 6-7. In terms of quality, the spheroidization grade of the cast iron pipe is controlled to be 1-3, and the spheroidization rate is ≥80%, so the mechanical properties of the material itself have been better improved, and it has the essence of iron and the performance of steel. The annealed ductile iron pipe has a metallographic structure of ferrite plus a small amount of pearlite, and has good mechanical properties, so it is also called cast iron pipe.
Diameter(mm)
Outer diameter(mm)
Wall thickness
(mm)
Weight/m
(kg)
Weight/root(kg)
Root/km
Weight/km(ton)
80
98
6
12.2
76.5
167
12.77
100
118
6.1
15.1
95
167
15.87
150
170
6.3
22.8
144
167
20.05
200
220
6.4
30.6
194
167
32.4
250
274
6.8
40.2
255
167
42.59
300
326
7.2
50.8
323
167
53.94
350
378
7.7
63.2
403
167
67.3
400
429
8.1
75.5
482
167
80.48
450
480
8.6
89.3
575
167
95.86
500
532
9
104.3
669
167
111.72
600
635
9.9
137.3
882
167
147.29
700
738
10.8
173.9
1123
167
187.54
800
842
11.7
215.2
1394
167
232.8
900
945
12.6
260.2
1691
167
282.4
1000
1048
13.5
309.3
2017
167
336.84
1200
1255
15.3
420.1
2758
167
460.69
Advantage
It has the essence of iron and the performance of steel. The annealed ductile iron pipe has a metallographic structure of ferrite plus a small amount of pearlite, good mechanical properties, excellent corrosion resistance, good ductility, good sealing effect, easy installation, and mainly used for water supply and gas transmission in municipalities, industrial and mining enterprises , Oil and so on.
A certain amount of spheroidal graphite is distributed on the ferrite and pearlite matrix. According to the nominal diameter and the requirements for elongation, the ratio of ferrite and pearlite in the matrix structure is different. The ratio of pearlite with small diameter Generally, it is not more than 20%, and the large-caliber is generally controlled at about 25%.
Application
It is suitable for the domestic drainage pipes of socket type and clamp type connection of gray cast iron pipes and supporting pipe fittings with internal and external pipe diameters of DN50mm~DN300mm and internal pressure not greater than 0.3MPa in new construction, expansion and reconstruction of civil and industrial buildings. , Rainwater pipes, non-corrosive industrial production wastewater pipes and rain down pipes.
Company Information
High Mountain Pipe is dedicated to the manufacturing and sales of various kinds of plastic pipes, fittings, valves, related plumbing equipments, etc. And we can provide professional solution method for complete pipe system. The production and sales volume of leading products of PE water supply pipes and HDPE drainage pipes ranks among the highest in the industry.
The company covers an area of about 200,000 square CZPT and has 6 workshops, 30 production lines, 300 workers, and 200,000 tons annual ability. It is a comprehensive enterprise integrating science, industry and trade. The industries involved are: research, production, development, manufacturing, and polymer materials of plastic pipes. All products meet the requirements of national inspection standards or enterprise inspection standards.
Packing&Delivery
Certificates
FAQ
Q1: May I get 1 sample before placing order?
Re: Yes, Sample are available. For normal products, samples are for free and you just need to bear the freight; For those high value products, you just need to freight and certain product cost. When we both cooperate for some times or when you are our VIP customer, free sample will be offered when you need.
Q2: Which payment is available for your company?
Re: T/T, L/C or Ali trade insurance. You can choose the 1 which is convenient for you.
Q3: How and when can I get my goods after payment?
Re: For small quantity products, they will be delivered to you by international courier(DHL, FedEx, TNT etc.) or by air. Usually it will cost 3-5days that you can get the goods after delivery. For large quantity products,shipping by see is worthwhile.It will cost days to weeks to come to your destination port, which depends on where the port is.
Q4: Is there any possible to use my appointed label or package?
Re: Yes. If needed, we'd like to use label or package according to your requirement.
Q5: How can you guarantee the goods you offer is qualified?
Re: We always believe honesty and responsibility are basis of 1 company, so whatever products we provide for you all are qualified. We will have goods tested and provide COA before delivery for sure.
Q6:Is the price on this page correct?
Re: The listed price is only for reference, for latest price, pls contact us directly.
Main products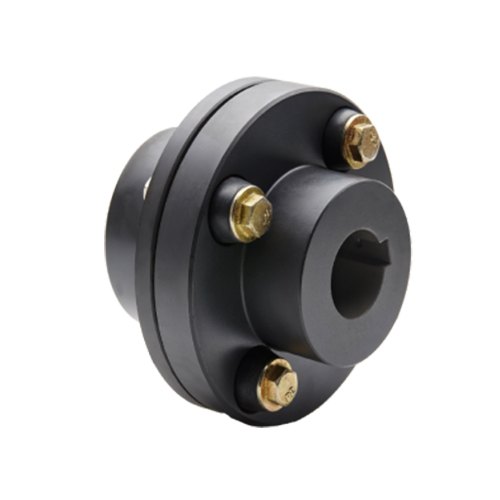 Flange Couplings for Motor-to-Shaft and Shaft-to-Shaft Connections
Flange couplings are versatile components that can be used for both motor-to-shaft and shaft-to-shaft connections in a wide range of mechanical systems. Their design and features make them suitable for various applications:
1. Motor-to-Shaft Connections: Flange couplings are commonly used to connect electric motors to driven equipment, such as pumps, fans, compressors, and conveyors. In motor-to-shaft connections, the flange coupling is mounted on the motor shaft and connected to the input shaft of the driven equipment. This configuration ensures efficient power transmission from the motor to the driven component.
2. Shaft-to-Shaft Connections: Flange couplings are also employed for shaft-to-shaft connections, where two shafts need to be linked together. This could involve connecting two separate pieces of machinery or extending the length of an existing shaft. Flange couplings allow for the secure and precise alignment of the two shafts, ensuring smooth rotation and power transmission between them.
Flange couplings are available in various designs, such as rigid flange couplings, flexible flange couplings, and floating shaft couplings. Rigid flange couplings offer a more rigid connection, ideal for applications where shaft misalignment is minimal. Flexible flange couplings, on the other hand, can accommodate some degree of misalignment and provide vibration dampening, making them suitable for systems with dynamic conditions or slight misalignments.
When selecting a flange coupling for a specific connection, factors such as the required torque capacity, shaft sizes, misalignment tolerance, and operating conditions need to be considered. Proper installation and alignment are crucial to ensure the optimal performance and longevity of the flange coupling in both motor-to-shaft and shaft-to-shaft connections.
In summary, flange couplings are versatile components that can be effectively used for both motor-to-shaft and shaft-to-shaft connections. Their ability to provide secure and efficient power transmission makes them a valuable choice in various industries and mechanical systems.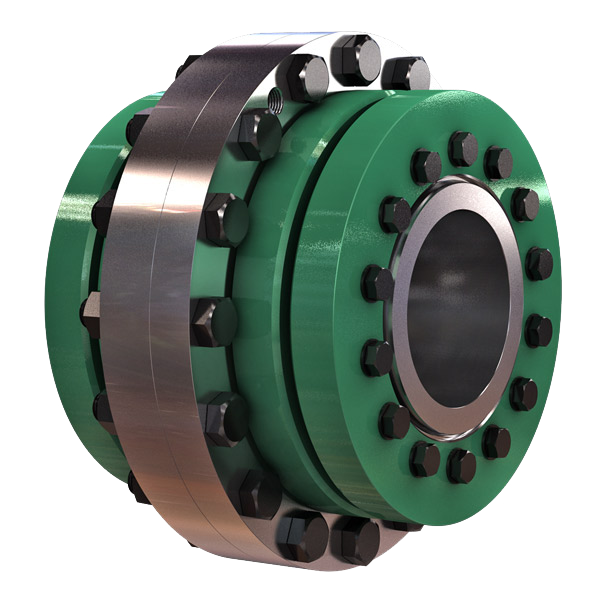 Can Flange Couplings Be Used in Food Processing and Pharmaceutical Industries?
Yes, flange couplings can be used in food processing and pharmaceutical industries, provided they meet certain requirements and standards to ensure hygiene and product safety. These industries have stringent regulations and guidelines to prevent contamination and maintain the quality and purity of their products. When selecting flange couplings for such applications, several considerations must be taken into account:
Material Selection: The flange coupling material must be food-grade or pharmaceutical-grade and comply with industry-specific regulations. Stainless steel, particularly austenitic grades like 316L, is commonly used due to its excellent corrosion resistance and ease of cleaning.
Hygienic Design: Flange couplings for these industries should have a hygienic design that minimizes crevices, dead spaces, and surface roughness where bacteria or contaminants could accumulate. Smooth surfaces and seamless construction help facilitate thorough cleaning and sterilization.
Sealing and Lubrication: Proper sealing is essential to prevent any potential leaks or ingress of contaminants. Food-grade or pharmaceutical-grade lubricants should be used to ensure that there is no risk of contamination from the coupling's lubrication.
Certifications and Compliance: Flange couplings intended for use in food processing and pharmaceutical industries should have relevant certifications, such as FDA (U.S. Food and Drug Administration) approval, EU regulations (e.g., EC No. 1935/2004), and compliance with industry standards like 3-A Sanitary Standards.
Cleanability: Flange couplings should be designed for easy disassembly and cleaning to maintain the required hygiene standards. This may involve quick-release or tool-less designs that allow for frequent inspection and cleaning without impeding production processes.
Resistant to Corrosive Cleaning Agents: In food processing and pharmaceutical industries, aggressive cleaning agents may be used. The flange coupling material should be resistant to these substances to avoid degradation and maintain the coupling's integrity over time.
By meeting these criteria, flange couplings can be safely used in food processing and pharmaceutical applications without compromising product quality or safety. It is crucial to work with reputable manufacturers or suppliers who understand the specific requirements of these industries and can provide couplings that adhere to the necessary standards.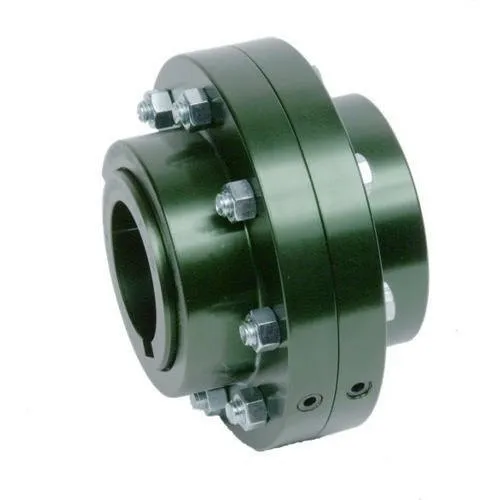 What is a flange coupling and how does it work?
A flange coupling is a type of rigid coupling used to connect two shafts together in a mechanical system. It consists of two flanges, one on each shaft, which are bolted together to form a solid and robust connection. Flange couplings are widely used in applications where precise alignment, high torque transmission, and zero backlash are critical.
The key components of a flange coupling include:
Flanges: The flanges are circular discs with holes around the perimeter for bolting them to the respective shaft ends. The flanges are made from materials such as steel, cast iron, or aluminum, depending on the application requirements.
Fasteners: High-strength bolts or studs with nuts are used to fasten the flanges together securely. The number and size of the bolts depend on the size and torque capacity of the coupling.
Gaskets: In some cases, gaskets or spacers are used between the flanges to provide insulation, prevent corrosion, or compensate for any slight misalignments between the shafts.
How a flange coupling works:
The two shafts that need to be connected are brought together with their respective flanges facing each other.
The flanges are aligned precisely to ensure that both shafts are in perfect axial alignment. Proper alignment is essential to prevent excessive loads on the bearings and to ensure efficient torque transmission.
Once the flanges are aligned, high-strength bolts or studs are inserted through the holes in the flanges, and nuts are fastened tightly to hold the flanges together securely.
The tight connection between the flanges creates a rigid joint between the shafts, allowing torque to be transmitted from one shaft to the other with minimal losses.
Flange couplings are designed to have zero backlash, meaning there is no play or free movement between the shafts when the direction of rotation changes. This feature ensures precise and immediate power transmission between the connected shafts.
Flange couplings are commonly used in various industrial applications, including heavy machinery, pumps, compressors, and marine propulsion systems. They are preferred when a reliable, high-torque transmission with precise alignment is required. However, they do not offer flexibility to accommodate misalignment, which is a limitation compared to flexible couplings. Therefore, proper alignment during installation is critical to avoid premature wear and failure of the coupling and connected equipment.



editor by CX 2023-08-07